Arsenal and Unai Emery: Top four done by January
Arsenal are continuing back head coach Unai Emery despite the growing evidence suggesting that he is incapable of leading the team forward. And if they keep him at the helm for the next few weeks, their top-four hopes could be finished by January.
At the start of the season, Arsenal had a very plain and obvious goal: reclaim Champions League football. While the club would never be drawn on saying it so explicitly as to put their team in a detrimental position should they suffer a poor run of form, their actions painted a very clear picture.
Josh Kroenke stated that the squad is being run a 'Champions League budget', the club invested heavily in the summer transfer window as they saw an opportunity to seize a top-four finish and there are increasing murmurs of players delaying their contract talks until it is clear whether the Champions League will be coming to the Emirates next season.
And so, it is slightly odd that this very obvious and undeniable goal is being scuppered by the very man that the club first hired to be their head coach and are now doubling down on that decision by throwing their full support behind him. Yes, Unai Emery is presently undermining Arsenal's top-four hopes, his inept coaching routinely putting the team is disadvantageous situations, losing games and dropping points as a result.
After Saturday's 2-0 defeat to Leicester City, the Gunners currently sit eight points off the top four — in reality, they sit nine points off the top-four pace as Manchester City will jump ahead of both Chelsea and Leicester in due course. The top four is not finished just yet, by no means, but the margin for error is narrowing with every lacklustre performance (Arsenal now have just two points from their last four matches, which have come against Sheffield United, Crystal Palace, Wolves and Leicester).
However, should the club persevere with Emery throughout the next couple of months, those slender top-four hopes could be dashed before they ever really got going. While the next four matches are relatively kind, with games against Southampton, Norwich City, Brighton and West Ham offering an opportunity to string some victories together, Emery's primary issues have come against lesser opponents in which is team are required to impose their identity on the match.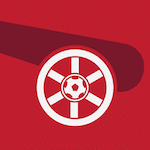 Want your voice heard? Join the Pain In The Arsenal team!
Write for us!
And then, from mid-December, the fixture schedule takes a dramatic turn for the worse. It starts with Manchester City coming to Emirates on December 15th. Within the next 17 days, Arsenal then face Everton (A), Bournemouth (A), Chelsea (H), and finally Manchester United (H) on New Year's Day. You do not need me to tell you that that is an extremely daunting run of fixtures.
20 days after, Chelsea, who are perhaps the most likely to beat the Gunners to the third and fourth positions in the table, come to the Emirates. Should Arsenal lose both matches against Chelsea, they will already by 15 points behind their London rivals. The top-four hopes will not last long if that is the case.
Put simply, Emery must turn things around now if he wants to lead his team to a top-four finish. After such a poor run of form against apparently easier opposition, Emery and his team are now well behind the eight-ball. And if they aren't careful, by January, they could be off it completely. This is all leading one way, right?