Arsenal Vs Brighton: Cohesion and quickness
The contrast between Arsenal's play in possession and Brighton's was stark. It all comes down to the cohesion of the players and the speed of the ball.
It was a depressing night for Arsenal. Freddie Ljungberg's second match in charge as interim head coach. His return to the Emirates. A perhaps unfounded but nonetheless present and even tangible hope for the future. Brighton and Hove Albion's arrival in north London was meant to be a celebration as the Gunners returned to their roots.
In the end, they did indeed return to their roots. Sadly, it was those embedded by previous head coach Unai Emery. The 2-1 defeat to Brighton was an extremely Emeryian performance: slow, ponderous, plodding, dysfunctional, disconnected, poorly coached and poorly executed, lacklustre, absent of energy, commitment and character.
But while Arsenal deserve to be criticised following a match in which they were routinely outplayed, the same praise should be attributed to Brighton. Under the guidance of Graham Potter, who, it should be noted, only arrived in the summer and has already upheaved the culture of the club and the tactical style of the team, Brighton were thoroughly brilliant. They were everything that their hosts were not: cohesive, intelligent, aware, industrious, and, in the end, deservedly victorious.
The most telling difference between the two teams, which was emblematic for the other chasmic disparities, was the way in which they passed the ball, especially when playing out from the back. Where Arsenal were hesitant and cautious, their passes rolling to the feet of their teammates, taking precious seconds away from their efforts to build attacks, Brighton passed with zip, intensity and connection. There was pace on the ball, options off it, and a cohesive system to routinely break out and provide an attacking foundation.
There are many reasons for this. Some of the home players are simply too slow to release the ball. Sokratis' passing was atrocious, lacking the speed necessary to put the receiver in an advantageous position; Granit Xhaka's over-reliance slowed down moves as he reorientated his body to get the ball on his left foot, again costing the team precious half-seconds, which are vital when playing out from the back; Hector Bellerin dribbled down blind allies; Lucas Torreira's passing lacked progression and incision.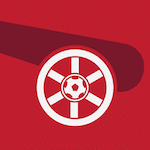 Want your voice heard? Join the Pain In The Arsenal team!
Write for us!
But more than just those playing the pass, the options off the ball were not good enough. Where Potter had drilled his midfielders to find pockets of space and his wingers to push high to stretch the pitch, the Arsenal attackers could not lose their markers. Joe Willock was nonexistent in the first half, Mesut Ozil was his anonymous self, while Alexandre Lacazette and Pierre-Emerick Aubameyang fed off his long balls from David Luiz.
This piece is not to single out one or two particular players — or even Freddie Ljungberg, who is the man in charge of this process. Rather, everyone involved must improve. Ljungberg must conjure up specific combinations to break out of certain situations. Those passing the ball must do so quickly. Those receiving it must not hide and play scared, as Ljungberg highlighted after the match. Those in offensive areas must provide options. And the whole mechanism must run with more cohesion and connection, just as Potter's Brighton did.
Potter's team were everything that Arsenal need to become. They played with cohesion and quickness. This difference is emblematic of everything that is wrong with this team, and it was showed in stark contrast on Thursday.