Arsenal: Mikel Arteta must change Nicolas Pepe
Nicolas Pepe might be the most naturally talented player in the Arsenal squad. And yet, to be completely effective, head coach Mikel Arteta needs to change him.
There was great excitement when Arsenal officially unveiled the club-record, £72 million acquisition of Nicolas Pepe in the summer. The Lille winger had totalled more than 20 goals and 10 assists in Ligue 1 the year prior — Lionel Messi was the only player in a top-five European league to do the same — and was largely viewed as one of the great, emerging attacking talents in world football.
It was presumed that the Gunners could not afford Pepe. His profile and price were simply out of their range, especially after failing to qualify for the Champions League for the third successive season. And then, suddenly, they signed him. Excitement, naturally, reverberated throughout the fanbase.
However, in his first half-season in north London, Pepe has rarely looked like the £72 million superstar that many expected him to be. There have been brief glimpses. The two freekicks against Vitoria, his goal and assist versus West Ham. But overall, Pepe has underwhelmed.
And now under Mikel Arteta, he is struggling to adapt to the new Arsenal head coach's style. He has terrific ability on the ball, but he does not press with the same intensity as his teammates and likes to slow down the play, standing up the opposing defender before than exploding past them.
Pepe also likes to receive the ball to feet and drive at the opposition, rather than using his speed to dart in behind and collect through passes — he is, of course, capable of the latter, but his natural game is to come short, not run in behind. As the farthest-right attacker in Arteta's 2-3-5 in-possession shape, that is problematic, his dropping deep and centrally shrinking the pitch and compacting space for those in central positions.
Nevertheless, while Pepe has struggled to acclimatise to Arteta's wide-right role for him, because of his natural skill set and obvious talent, there is plenty of reason for patience. He is still only a few months into his time in the Premier League, it is crucial to remember. And BT Sport pundit Peter Crouch — among many others — certainly believes that Arteta can get the best version of Pepe: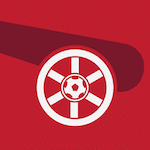 Want your voice heard? Join the Pain In The Arsenal team!
Write for us!
"He can get a lot more number of goals to add more to his game. Because he is such a good dribbler, he wants the ball to feet so he can get at his full-back. Arteta worked with Pep Guardiola with Raheem Sterling and if you look at him, he's fantastic at going past people but he wasn't quite getting the goals or numbers. If you can look at his improvement over the past two or three years, Arteta was a big part of that as well, I think he can look at improving Pepe that way, getting those tap-ins and cheap goals, you can add five or ten more goals to his game and he'd be a huge asset to Arsenal."
If Pepe is willing to work hard and adapt to Arteta's demands, which he does at this early stage, he could yet blossom into a truly elite wide attacker. If he positions himself in the penalty area more frequently, as Crouch highlights, uses the ball quicker and more purpose, and starts to utilise his movement off the ball as well as on it, he could enjoy the same development as Raheem Sterling at Manchester City.
Arsenal have a tremendous talent in Pepe. But they do not yet have a tremendous player. For that, Arteta must change him.