Arsenal: Mikel Arteta shows how defence has changed
If Mikel Arteta has changed anything at Arsenal, it is the defence. In Friday's press conference, he provided a peek into how he has done so.
Mikel Arteta arrived as Arsenal's new head coach from the best attacking team in world football. Pep Guardiola has developed a suffocating system that creates beautiful moments of play. It started at Barcelona, moved to Bayern Munich, and has since been implemented at Manchester City, where Arteta learned all he now knows.
So when he arrived in north London, it was justifiably expected that he would fix Arsenal's attacking play first. This is what he excels at after all, right?
Well, apparently not. In his first two months in charge of the club, the main improvement that the team has made under Arteta's influence has been the defence. Arteta has been in charge of the team for nine games. They have conceded only eight goals in those nine games. Four of those goals were scored by Chelsea. Arteta has led his team to three clean sheets and they have conceded more than once on only two occasions, the two matches against Chelsea.
In contrast, in the nine games prior to Arteta's arrival, excluding the Everton draw as he was named the head coach the day before, Arsenal conceded 18 goals. They kept zero clean sheets and conceded fewer than two goals just once, a 3-1 win against West Ham United.
Furthermore, in Unai Emery's final nine games, Arsenal conceded 17 goals again. They had no clean sheets, won just one game, and conceded fewer than two goals in only three games. That stats are quite clear. Arteta has completely turned the defence on its head.
In his press conference on Friday, Arteta was asked whether he has had to sacrifice attacking flair for defensive stability. There was one sentence within his reply that was particularly interesting:
"I think we have to generate some defensive stability, but not by defending deep. I don't like that. It's by defending high and pressing the opponent as much as possible."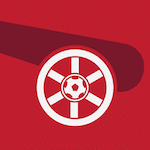 Want your voice heard? Join the Pain In The Arsenal team!
Write for us!
Perhaps the most noticeable change in the approach of the team from Emery to Arteta has been the starting position of the defensive line. While both have intended to implement a high press that involves the attacking players chasing down the ball and pressurising the opposing defenders, Emery instructed his defensive line to sit a little deeper, concerned about the straight ball over the top of a high line.
That left vast acres in the midfield that meant the opposing team could play through the thirds of the pitch with relative ease. There was simply too much space to press, so getting close to the ball was nigh-on impossible.
Arteta, on the other hand, has pushed his defensive line high, reducing the distance across the team from front to back and compacting the space in the midfield. It has made the team much more difficult to play through, thus increasing the efficacy of the industrious pressing work of the attacking players.
Arteta has not yet fixed Arsenal's defence — they only kept a clean sheet against Burnley because of some poor missed opportunities on Burnley's part. But the improvements he has inspired in that area have been stark, and it is all down the high starting positioning of the backline.