Arsenal: Bukayo Saka is more than quick
Bukayo Saka provided yet another assist in Arsenal's 1-0 win over Olympiakos. The 18-year-old is known for his speed, but he has a much more well-rounded skill set than that.
It has been a remarkable first season as a senior professional for Bukayo Saka. Initially added to the squad as a last-gasp whim, only set to play in fringe matches or in major emergencies, the Arsenal youngster has since established himself as a key member of the first team.
Saka has started the last six successive matches in all competitions under Mikel Arteta. In Arteta's 11 games in charge, Saka has featured in 10 of them, making eight starts. While he has benefitted from injuries to Sead Kolasinac and Kieran Tierney, he has also earned the starting left-back role all to himself with several excellent performances.
Those brilliant showings continued on Thursday night, when Saka produced one of the few moments of quality to lead Arsenal to a 1-0 victory over Olympiakos. Driving forward on an inside run, Saka collected a pass from Pierre-Emerick Aubameyang with time and space to deliver. He took a touch to set himself, surveyed the penalty area inside of him, and whipped a delicious low cross in behind the Olympiakos defence and in front of the goalkeeper for Alexandre Lacazette to tap home.
If you were not convinced by how high-quality this pass was, here is what Robin van Persie had to say about it for BT Sport:
"That type of pass is like from Ryan Giggs, Dennis Bergkamp, Paul Scholes, ordering your striker to move into that danger zone, it's world-class. This is not simple but he makes it look easy. Only the great players can make those passes."
In his post-match press conference, Arteta was equally glowing about Saka's overall performance and commitment:
"I'm really pleased with the way he's developed. And I'm really pleased with the way he's handling these situations because there's a lot of highlight on him at the moment, but he's still really humble. He's still as keen to meet with my assistant, willing to improve. He's a great kid and he makes big decisions in the final third. He's not someone who hides. He's got the vision and the ability to execute when the spaces are really tight. That's a gift."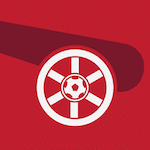 Want your voice heard? Join the Pain In The Arsenal team!
Write for us!
Saka broke onto the scene as a young talent because of his athletic skill set, especially his speed. He is terrifyingly quick and can sear past defenders with consummate ease. But as his first senior season has progressed, he is displaying qualities that extend far beyond just pure speed. His touch is excellent, his decision-making controlled and understated. He is technically sound, a very good dribbler with the ball at his feet, and he is now displaying the creativity, vision and quality to deliver that all elite wide players must possess.
He now has nine assists on the season. Some of them have been utterly sumptuous, especially when he has time to whip in crosses on his left foot. His delivery is outstanding, if not always consistent, and his vision is superb, often forcing strikers to move into space by playing a very specific pass — this is what happened with Lacazette on Thursday. Saka's pass forced the Frenchman to duck behind the Olympiakos defender.
Saka is displaying a rounded skill set that he should not have at such a young age. He is more than just an athletic freak. He is more than just quick. He is smart, skilful, creative, a visionary, and absolutely brilliant.