Arsenal Vs Olympiakos: A mature performance or a poor performance?
Arsenal put in arguably their worst performance of the Mikel Arteta era in Thursday night's 1-0 win over Olympiakos. But was it as poor as suggested, or was it a sign of increased maturity?
Arsenal's 1-0 victory over Olympiakos was a strange match. The hosts started strong, the Gunners then controlled the remainder of the first half, only to then cede control in the second half without ever allowing too many threatening chances, before creating the best opportunities of their own in the closing stages that should have been converted.
All in all, you could make an argument that it was the team's worst performance under new head coach Mikel Arteta. It was certainly their most cautious and conservative, rarely throwing players forward as in recent matches, not looking to kill off their opponents with attacking football, instead happy to merely hold them at arm's length.
You could criticise Arteta's approach, and some of his team selections as a result of this slight shift in strategy, but after the match, Arteta and his players were extremely happy with the result. Speaking in his post-match press conference, Arteta was asked if he was pleased with the character his team to showed:
"Absolutely. It is tough to come to a stadium like this, away in Europe, and get a win and there were a few lessons in the game for us, and some great things for our development as a team."
David Luiz then echoed those comments in his post-match interview, eager to express his and the team's happiness at the hard-fought victory:
"It was a good result for us. It's so difficult to play here against an amazing team with an amazing coach, amazing atmosphere. It was difficult but I think we played a mature game where we tried not to concede and we knew when we had to defend <…> They are a good team. They did well in the Champions League against amazing teams and they showed tonight that they have great ideas in football. But we played a humble game, a mature game, and understood that we needed to defend as a team."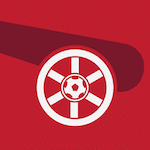 Want your voice heard? Join the Pain In The Arsenal team!
Write for us!
On the one hand, then, you have a performance that lacked the same intensity, energy and offensive threat as recent outings. And on the other, you have the manager and players expressing their happiness at the result, praising their own resolve, diligence and defensive discipline. They were pleased with the ground-out victory, even if it was not all that pretty.
Perhaps, therefore, this performance and win should be praised for its maturity. Olympiakos have only lost once at home all year, and that was to Bayern Munich. They are unbeaten in 18 games and have tremendous support at the Karaiskakis Stadium. This was no easy visit, and with a second leg still to come at the Emirates next week, it was important that Arsenal did not dig themselves into a hole they could not climb out of.
The job, of course, is not done. That second leg will define all. But that Arsenal have given themselves the upper hand with a one-goal lead and that vital away goal, perhaps it is right to praise the maturity of the display, instead of criticising its clunkiness.