Arsenal: Give Granit Xhaka credit
Granit Xhaka is turning around his season. After disgracing Arsenal football club, the supporters and the armband, the midfielder deserves credit for his response.
Granit Xhaka was not given much of a chance. Hung out to dry by Unai Emery when initially named as the captain. Playing in a position that accentuated his weaknesses. Struggling for form as a result of his excessive shortcomings. And all in the midst of an increasingly toxic environment at the club, with Xhaka the leading figure at the heart of it.
When the former Arsenal captain trudged off the pitch against Crystal Palace, inspiring boos around the Emirates stadium before telling the supporters to 'f*ck off', it seemed as though his career at the club might have come to its end.
Indeed, even after Emery departed and Xhaka was slowly reintroduced into the team, this time without the armband around his bicep, the Swiss international's agent confirmed interest from Hertha Berlin and stated that his client wanted to leave. Xhaka, it appeared, was destined to depart in controversy.
But under the tutelage of Mikel Arteta, who has altered his position, encouraged his character, and removed the responsibility of leadership, Xhaka has looked reborn. The midfielder has flourished in a left-sided role that provides him with more time and space on the ball. His intelligence has come to the fore, drifting into different spaces of the pitch to dictate play. And he displayed his fighting spirit in a brilliant performance in the 2-2 draw against Chelsea when he played at centre-back with ten men for over an hour.
This week, Xhaka talked about his resurrection and how he now feels towards the club, the fans and football more generally. His comments paint a very different picture to that dark day against Crystal Palace: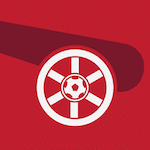 Want your voice heard? Join the Pain In The Arsenal team!
Write for us!
"I have to smile a little bit because I am very, very happy to be back and to enjoy what I love the most: playing for this club and playing football. I had a very, very good meeting with him [Arteta] three days after he came into this club. He told me a lot of things and I was very open with him and he was very open with me. And now we are here, we are both very happy to bring this club to where they have to be."
Amazingly, Xhaka is happy at Arsenal. And he deserves tremendous credit for the personal and professional turnaround that he has inspired. Moaning, complaining, fighting and causing trouble would have been a very fair response from Xhaka. Instead, he removed himself from the limelight, recovered emotionally and mentally, and then returned to training and the team, keen to work hard and prove that he can still provide value.
Xhaka has responded in the best possible way, and he is now a crucial part of Arteta's set-up. He still has flaws, he is still a limited footballer, but he deserves tremendous praise for the way he has responded to the darkest day of his career.