Arsenal: Chris Smalling a truly disastrous idea
Arsenal are reportedly interested in signing Chris Smalling this summer. The move would be a disastrous idea for a team in need of elite defensive reinforcements.
Arsenal need a new centre-back. But unlike in many years past when any centre-back would do, on this occasion, they require a very specific type: an elite individual who can offer substantial improvement on the starting options.
At present, the Gunners have eight centre-backs on their books: David Luiz, Shkodran Mustafi, Pablo Mari, Sokratis, Rob Holding, Calum Chambers, Dinos Mavropanos, William Saliba. What is so fascinating about the group is that the difference between them is very slight.
If Mavropanos is the worst and Luiz(?) is the best, the difference between the two is not particularly large. And all the others slot somewhere onto the scale between the two extremes. Arsenal, then, have no problem with depth at the position. Most teams would roll with five or even four centre-backs and Mikel Arteta is set to have eight central defenders to choose from. They can let three leave and still be plentiful.
And yet, despite having so many centre-backs, the Gunners' greatest need is still at the position. The reason is quite clear: they may have a lot of centre-halves, but none of them are very good, especially when compared to the level required to compete for a top-four finish and beyond.
So when it comes to purchasing a new centre-back this season, likely to pair with Saliba as the new anchoring pair at the heart of the defence, the club must look for quality, not quantity.
In fact, if Arsenal blew their entire transfer budget on just one centre-back and signed no other players, you could make an argument that the window was still a productive one, such is the make-up of their squad and the desperate need for elite quality at the position.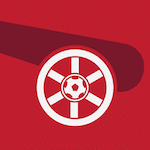 Want your voice heard? Join the Pain In The Arsenal team!
Write for us!
All this brings me to recent reports linking Chris Smalling with a move to the Emirates. Per Corriere dello Sport, the Gunners have approached Manchester United over a summer transfer. The Metro claim that United are looking for £25 million, which seems a relatively fair price for a player who has impressed on loan at Roma.
However, and this is nothing against Smalling per see, but the north London outfit should not be signing any centre-back for £25 million. That is not the type of centre-back they need. Is Smalling any better than Luiz or Mustafi or even Chambers? Perhaps marginally, but certainly not by the distance required, and it only leaves the position is the same murky ire as before.
Arsenal need a centre-back more than any other position. But it has to be the right centre-back, and Smalling is not the right one.