Arsenal: Declan Rice good, but not £80 million good
Paul Merson has stated that Arsenal should sign West Ham United's Declan Rice. While the midfielder would be a good acquisition, he is not £80 million good.
Arsenal need a defensive midfielder. They have done ever since Gilberto Silva was fazed out of the starting XI almost 15 years ago. They have tried hard to find one, developing the likes of Alex Song, Abou Diaby and Francis Coquelin before later throwing money at Granit Xhaka and Lucas Torreira, but at present, the squad is still lacking an elite deep-lying midfielder who can both shield the back four and progress play.
And former midfielder Paul Merson thinks he has found the perfect candidate to take on the role: West Ham United's 21-year-old starlet, Declan Rice.
Writing in his Sky Sports column, Merson did not hold back on his praise for the young midfielder, highlighting how the former defender would slot into the Gunners' XI nicely:
"Chelsea have been linked with him, but I don't know why Arsenal aren't looking at Declan Rice. Arsenal are crying out for a holding midfield player. They don't need a midfielder who's going to be on the edge of the opposition box, they need a disciplined defensive midfielder, who is going to sit in front of the back four and organise the side; one who, when he gets the ball, gives it simple with 10-yard passes <…> A player like Rice can allow the attacking players to flourish and it gives the central defenders the chance to be better than what they are."
Merson continued:
"For me, a good holding midfielder is priceless. Arsenal haven't really had a disciplined defensive midfielder since Gilberto Silva. Everyone talks about the club never really replacing Patrick Vieira, and of course, but they never replaced Gilberto either. There are players in the current team that are meant to do that job but they don't have the discipline to do it, and that needs addressing."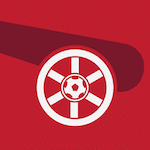 Want your voice heard? Join the Pain In The Arsenal team!
Write for us!
His argument is a fair one. Rice has played every minute of the Premier League season. Three tackles per game, 2.1 interceptions per game both rank in the top two for West Ham players. Meanwhile, a very healthy pass completion rate of 86.2% shows that he is a smooth and capable distributor. But will the English international be an elite defensive midfielder? His passing is limited, he struggles with sharper, shiftier attackers, and at a higher-performing team than West Ham, his role would veer away from the more destructive duties that he executes so well.
And that is a crucial question to ask. Claret and Hugh report that West Ham would demand £80 million for Rice's services. Whether that fee is correctly reported or not, it is very unlikely that he would cost less than £60 million. When discussing those types of fees, you have to be sure that you are signing an elite upgrade. Just look at the £72 million splashed out on a good but not great Nicolas Pepe.
And so, a potential move for Rice seems like a nice idea, and he would improve the team in a position of great need. But the price that would be required, Arsenal could — and should — look elsewhere. Rice is good, but he is not £80 million good.