Arsenal: Yet more support for 'very, very best' Mikel Arteta
Mikel Arteta has made a positive to life as Arsenal head coach. And this week, yet more support for his coaching career has come in, the Spaniard roundly heralded as heading for the top.
No one knew what to expect from Mikel Arteta. He arrived as the new head coach at Arsenal having never held a senior management role in his life. For three-and-a-half years, he was the assistant manager at Manchester under the greatest coach in world football, so his schooling in senior management is hardly poor, but experience is everything and Arteta had none of it.
His early months, then, were always going to be critical. Just what type of coach would Arteta be and how effective would his methods prove? Well, if the initial signs are anything to by, fans should be extremely positive indeed.
Irrespective of the evidence on the pitch, and there is plenty in support of Arteta's work, there is a growing mountain of anecdotal evidence from people who have worked with Arteta during his first months in north London.
The latest comes from Steve Round, who arrived after Arteta's appointment as a first-team coach. Round has worked as a technical coach at Derby, Middlesbrough, Newcastle, Everton, where he encountered Arteta as a player, Manchester United and others, under experienced managers like Steve McClaren and David Moyes. If there is anyone who knows what a good manager is, it is him, and he has not held back on his praise for Arteta.
Speaking to the Hartlepool Mail, Round said:
"Really enjoying it [working at Arsenal]. It's a fantastic club with a top manager. Hopefully we have turned the corner and we are starting to move forward. We'd got some momentum going, obviously it's all been put on hold now and we're just waiting to see what happens. It's a brilliant club and I'm delighted to work for the manager who I think has got the potential to be one of the very, very best."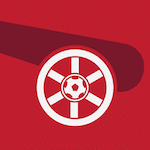 Want your voice heard? Join the Pain In The Arsenal team!
Write for us!
Round is not the only highly experienced individual to lavish Arteta in praise. Earlier this season when speaking to Sky Sports, David Luiz, who has worked with some of the very best coaches in world football, was equally as bullish about the Spaniard's prospects as a head coach:
"For me, Arteta is going to be one of the best coaches in the world. I have had the opportunity to have many coaches during my career. He is intelligent. He was a player. He is clever. I think he's going to be one of the best, but it's part of our job to help him do that, especially in the beginning because everybody doubts. But I really trust in this philosophy. I really trust in the way he sees football."
Quite what the future holds for Arteta and Arsenal remains to be seen. There is a long, long way to go. But if you ask those he works with, there is no doubt, he is destined for the very top.