Arsenal vs Sheffield United player ratings: Of fighting and winning
Arsenal brought the heat to the FA Cup to face Sheffield United with a team that looked Premier League ready. Here are the player ratings.
Arsenal sent a team out to face Sheffield United that looked like the kind of team they'd send out in the Premier League. Which makes me feel a little bit better about thinking this was a Premier League match while writing my Predicted XI… oops.
Anyway, Mikel Arteta called in the usual changes to account for the heavy amount of fixtures in such a short time. There were no surprises in the lineup, just a bunch of guys who have started before. Well… and Ainsley Maitland-Niles.
As the starting XI was announced, it was going to be either a 4-3-3 with Sead Kolasinac as a left midfielder, or a 3-4-3, with wingbacks. True to the fluidity we've seen lately, it flowed between the two.
Arsenal fought for the win against Sheffield and they earned it
With a win back under their belt from Southampton, the Gunners looked to keep the momentum going across competitions.
It didn't start well, as Sheffield fired first with a goal that was later ruled out due to offside. Still, it was a shock to the Arsenal system. Sheffield continued to maintain most of the threat, with Mustafi flicking on a header across the face of his own goal that nearly gave the Blades the lead yet again.
Yet it was Arsenal who struck first, as Tierney found Lacazette in the box and Lacazette was spilled for a penalty that Pepe put away. The momentum kept going as Pepe nearly doubled the lead from open play, but even though he didn't, the match was turned on its head, with the Gunners taking the pilot seat.
Everything reset in the second half. Sheffield took the initiative and put the Gunners in nervy position after nervy position. It was back and forth from then, chance for chance, but Sheffield continued to looked more dangerous in the box, winning pretty much every header, yet somehow to no avail. Not until very late in the match, anyway. A ridiculously mistimed jump from Holding led to a ridiculously failed clearance by Kolasinac and just like that, it was level and Sheffield looked hungry for more.
Yet it was the Gunners who pulled out the winner, with Dani Ceballos sneaking in there to get a Ramsey-esque goal right at the end.
Here are those player ratings:
Goalkeeper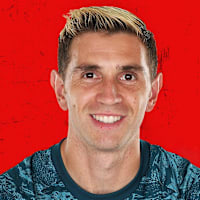 7.2
Controlled his zone well. Made what saves he needed to and scrambled to protect his goal when his defense let him down. Was also helped out by the offside flag several times. You could tell he started to lose faith in his defense because he started to take more control on set pieces the later in the match it went.