Arsenal: Allan Saint-Maximin a true diamond in rough
Arsenal are reportedly considering a summer move for Newcastle United winger, Allan Saint-Maximin. He could be Mikel Arteta's diamond in the rough.
"Mikel Arteta is working many, many hours and days after training specifically about the last action on the pitch – that control in the last moment to make the right movement in the final three or four metres," Pep Guardiola said via the Independent about Raheem Sterling.
Sterling's emergence as one of the most prolific wingers in the Premier League stemmed from his natural ability. Lightning fast, a technically skilled dribbler, and excellent close control, where he struggled was in his decision-making, his positional intelligence and awareness, and his finishing. Mikel Arteta taught him those skills.
The now Arsenal head coach is looking to conduct a similar experiment with Nicolas Pepe. Pepe is a more confident finisher than Sterling, but he also possesses the same athletic and technical traits as the Englishman. Where he struggles, like Sterling, is seeing and then getting into goalscoring positions in and around the penalty area. He is not as productive as his talent suggests he can or even should be.
Perhaps this same coaching process can be conducted with other athletic, skilful, but under-productive wide players, too. Adama Traore is figuring things out at Wolves; Sadio Mane has gone on the same journey at Liverpool. And then there is Allan Saint-Maximin, who is as talented as they come, if lacking in clinical decision-making and execution in the final third to establish himself as an elite Premier League winger.
This week, the Northern Echo reported that Arteta is keen on the Newcastle United star, who only arrived at the club last summer in a £16.5 million deal. Saint-Maximin has been sensational since the Premier League returned, establishing a terrific partnership with Miguel Almiron. He is certainly built in a comparable manner to Sterling.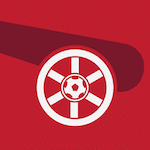 Want your voice heard? Join the Pain In The Arsenal team!
Write for us!
Short and stout, he is deceptively strong on the ball. His explosive speed makes him deadly in one-on-ones, as evidenced by his ridiculous 5.11 successful dribbles per 90 minutes. He is a terrific dribbler and lethal when he has space to drive into, routinely skinning exposed defenders who have no choice but to foul him.
Where he needs to improve is in his end product. Three goals and four assists in 1,565 Premier League minutes is nothing special. His finishing and passing is inconsistent, to say the least, and his decision-making needs work, too. But this is where Arteta has made his name as a brilliant young coach.
Saint-Maximin, then, offers Arteta a diamond in the rough like few others. And it might just be worth a gamble on Arteta's coaching ability to acquire and develop a potentially elite winger.