Mikel Arteta Must Address Arsenal's Offensive Imbalance
Arsenal's offensive imbalance has long been apparent. It is hindering their creativity, and Mikel Arteta must address the issue.
Arsenal have been too reliant on their left-hand side. However, in the recent win over Sheffield United, there were signs that things were changing. Fans got a glimpse of an exciting future.
Major changes were evident from the offset. Dani Ceballos was tasked with single-handedly conducting possession, a role which was facilitated by Mohamed Elneny's occupation of the right-back position. Elneny's instructions also allowed Héctor Bellerín to push further upfield. Bukayo Saka continued in his unique hybrid role but seemed to find central spaces between the lines more often than usual.
It may have been brief, but a superior Arsenal – minus Thomas Partey – stood before us after Nicolas Pépé was introduced. Willian moved over to the left, and Pierre-Emerick Aubameyang was deployed as the central striker. The Gunners immediately looked more dangerous.
Saka soon gave them the lead, and Pépé quickly doubled their advantage. Willian and Saka interchanged seamlessly between the left-wing and No.10 spot, Ceballos' confidence was perceptible, and the full-backs charged forward. The shackles were off.
However, in the two games since this victory, first-team manager Mikel Arteta has reverted to an unbalanced system. This was understandable against Manchester City, as it was this approach which helped Arsenal triumph in last season's FA Cup semi-final. Regardless, on this occasion, the lack of drive from the men in dark blue and black was particularly disappointing. Against Rapid Vienna, Alexandre Lacazette started through the middle, and Eddie Nketiah replaced Aubameyang on the left. The experiment failed miserably.
What Needs to Happen?
Although the issue is undoubtedly complex, the solution is arguably simple. Arteta must put his faith in the system which changed the game against Sheffield United. That means starting Pépé on the right, Aubameyang through the middle, and either Willian or – preferably – Reiss Nelson on the left.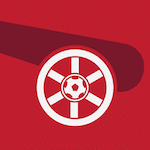 Want your voice heard? Join the Pain In The Arsenal team!
Write for us!
Since arriving in January 2018, Aubameyang has scored 73 goals in 116 competitive games. The merits and drawbacks of starting the 31-year-old out wide are clear. While Arsenal can start more goal threats, they sacrifice creativity in the process. Modern-day wingers must be able to score and provide, Aubameyang merely does the former.
Lewis Ambrose's tactical analysis of the Sheffield United match – or more specifically, his detailing of the numerous benefits of playing Aubameyang centrally – highlights the situation. As stated in the piece:
Aubameyang may not be fantastic with his back to goal but he's still got enough quality to have an impact like he did for the opening goal and his movement throughout the second half proved he can be incredibly dangerous.

Arteta's determination to have another goalscorer in this Arsenal side makes sense but Aubameyang's movement with an additional creative player in the line-up is clearly a viable alternative method to create more chances.
Possession has not been an issue for Arsenal this season. The only games in which they have lost the possession battle have been against Liverpool and Manchester City. It is their lack of creativity which necessitates this discussion. They have attempted only 41 league shots so far, the third-lowest tally in the division. The fact that 20 of those efforts (48.78%) have been on target shows that they have been efficient in front of goal, regardless, the first total must improve.
For the time being, a midfield of Saka, Ceballos, and Thomas Partey must be the way forward. Composed and slippery, Ceballos should continue as the conductor. Partey reportedly has "progressive elements to his game that were as yet untapped". His understanding of space, his physique, and his ability to carry the ball past opponents must be utilised effectively.
Saka, meanwhile, has thrived since bursting onto the scene. Removing him from his individual role at this juncture would be illogical. Further down the line, Emile Smith Rowe is another academy product who could play an important role in tackling this problem. Arsenal believe the 20-year-old, who they see as either a No. 10 or an advanced No. 8, "can be special".

The forward responsibilities of the full-backs also need to expand. Although Kieran Tierney has practically been playing as a third centre-back, his crossing prowess makes him a nifty offensive weapon. Bellerín has four assists in seven games this season and is slowly getting back to his best.
It is natural for clubs to favour one side when attacking, nonetheless, 43% of Arsenal's 2020/2021 touches have occurred on the left side. Compared to the rest of the big six, only Manchester United have a comparable percentage (44%). Liverpool (40%) are not too far behind, but they have not struggled to win or create chances in recent years.
If Arsenal Football Club are to enjoy a successful campaign, addressing their forward imbalance is essential. Doing so will aid their unpredictability, and in turn, their creativity and potency.