Arsenal: Why Granit Xhaka is worth £30 million more than Mohamed Elneny
Arsenal have a lot of questions in their midfield, but debating between Granit Xhaka and Mohamed Elneny is not a question worth asking.
In my ongoing crusade to vindicate Arsenal's continued usage of Granit Xhaka, I have come upon a clump of questions regarding why he cost £30m more than Mohamed Elneny, who was purchased on the cheap from FC Basel in the summer before Xhaka was purchased.
It's true that the two have their similarities. Traditionally, both sit deeper in the build up, making the occasional darting runs forward into the fray, but for the most part, they like to sit back and be the reset option.
They are also both a bit lacking in pace and athleticism. The effort is there, it always is, but they just aren't blessed with the speed to cover a lot of ground.
They both have a fierce shot from distance too, but this is where Xhaka starts proving his quality over Elneny, as Xhaka's shot is better, as proven by his statistics, and as we will see from more statistics, there aren't many things that Xhaka doesn't do better than Elneny.
When it comes to passing, both are often accused of passing backwards too much, but that distinction falls mostly on Elneny. The Egyptian boasts a 94% pass completion with Xhaka only at 86% but that is another indication of why Xhaka is better off – he takes chances.
Xhaka is by no means a chance creating machine, but he creates more than Elneny on average and, when you get to the Swiss's forte, he completed over five longballs per match. Elneny is looking at about half that.
Defensively, perhaps the biggest critique of Xhaka, you will see that, yet again, the moaned-about Xhaka has the upper hand. Statistically, Xhaka is one of the better ball-winners on the team, averaging more successful tackles/interceptions (2.8) per appearance than everyone else on the team excluding Mustafi, Koscielny and Monreal.
Elneny is only looking at 1.3 ball winnings per 90 in the Premier League, although his 2.4 in the Europa League is a promising uptick.
And if you want to talk about ball security, both Xhaka and Elneny rank pretty low on the getting dispossessed list, but if you want to get down to the nitty-gritty, Xhaka has the upper hand here too.
The difference is in the cutting edge that Xhaka brings. This is my new term 'cutting edge.' I use it to describe if a player can make meaningful things happen. Xhaka can. He takes chances, he pushes the ball forward and he is learning to do this better and better with his new midfield role.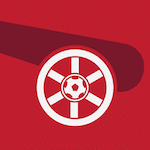 Want your voice heard? Join the Pain In The Arsenal team!
Write for us!
Elneny has his uses, but those uses are mostly going to be appreciated in lesser matches, where he doesn't have a high-quality opponent. Because, to put it simply, Elneny doesn't have that adventurous side to his game. He plays very hum-drum, doing his job and little more. There is use in that, but there isn't a lot of monetary value in that.
I hope that I don't have to hear the "Elneny should be starting over Xhaka" cries anymore. It's two different levels.